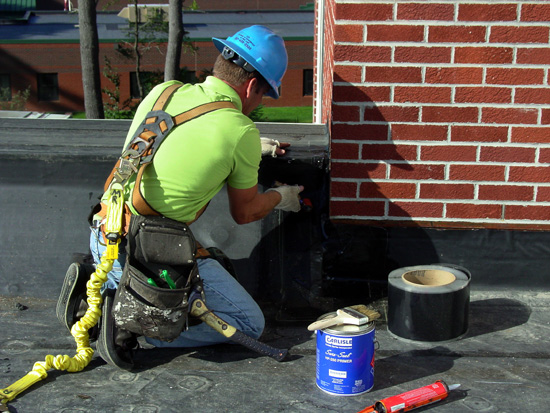 Glidden Roofing can customize a maintenance programs with both short- and long-term solutions for all your roofing needs. Annual inspections, cost analysis and recommendations are all included with these services, as well as customized agreements. The main goal of roof maintenance is to extend the life of your roof system.
Investing in a roof maintenance plan with the professionals at Glidden Roofing is the best way you can ensure that your roof will last. By being proactive about caring for your roof and addressing any issues as soon as they arise, you will ensure that your roof will last for years to come.
Our trained technicians follow an 11-step checklist
Drains are examined and thoroughly cleared
HVAC unit doors are closed
Laps and flashings inspected
Any unwanted debris is cleared from roof
Roof CAD drawing noting where any minor repairs are needed and/or took place
Before and after pictures of any repairs made to your roof
We provide an estimate for any proposed work beyond the scope of basic preventative maintenance
Year-round and seasonal winter maintenance programs help prolong the life of your roof by addressing issues before they become a problem
The extra weight from snow on a flat roof can compromise the roof's integrity, sometimes causing it to collapse
Glidden Roofing can remove the snow in a safe, effective manner, alleviating this potential hazard
Ice dams can cause interior leaks and extensive damage to roofs, gutters, attics and walls of a building
Glidden Roofing can safely remove ice dams without damaging your roof
For minor leaks, our expert technicians will:
Evaluate your roof
Find the cause of the leak and make any necessary repairs
Take before and after photos
Created a detailed roof CAD drawing indicating where any repairs were made
For major leaks we can also:
Replace damaged insulation
Make repairs to damaged decking
Repair seams that have pulled apart
If you have an urgent leak, we are available 24 hours a day, 7 days a week to respond.
Call us at (207) 883-2608.